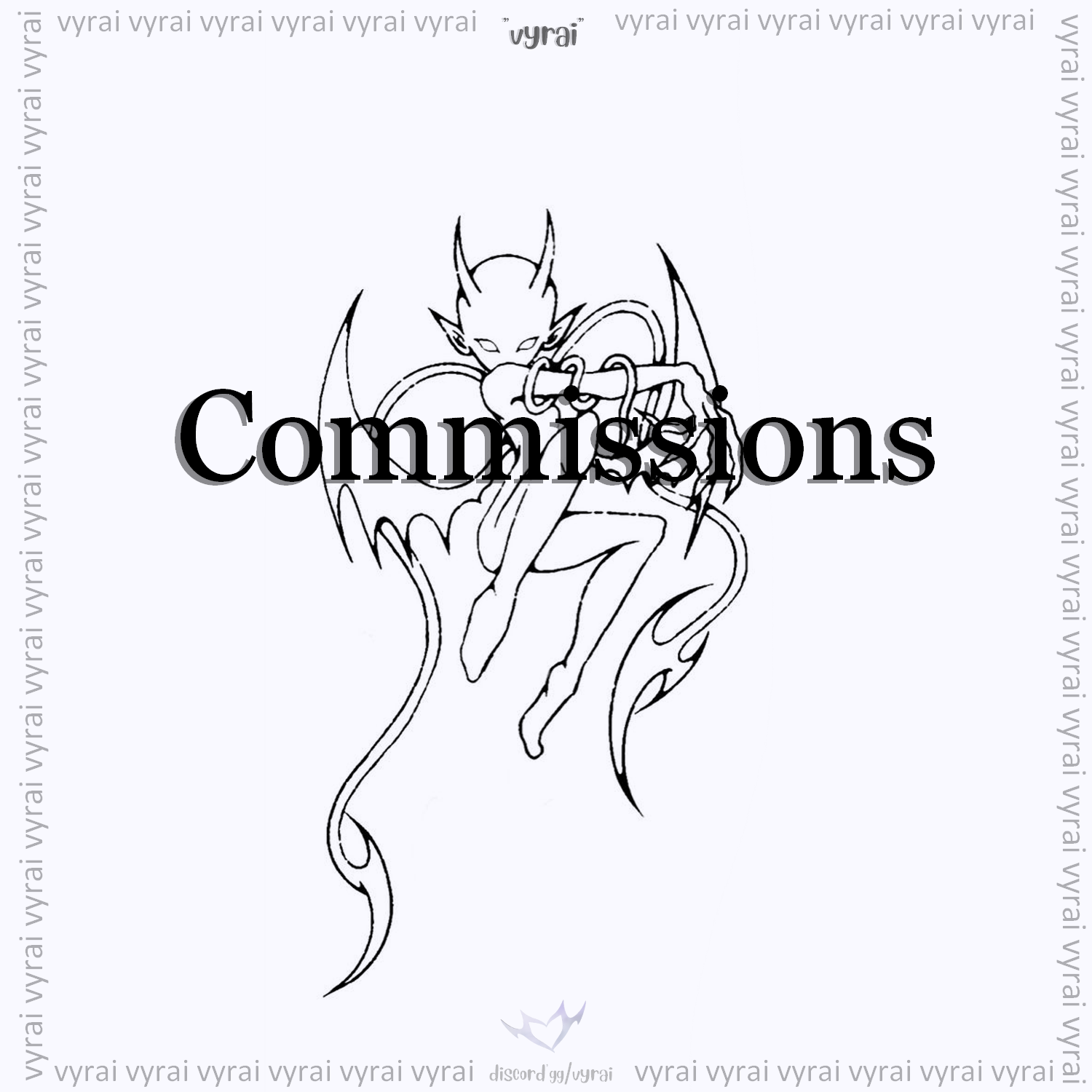 Avatar Commissions
Pay what you want:
(minimum $5.00)
Vyrai Avatar Commissions are open!
everything i will and will not do are disclosed in my discord.
i have the right to refuse any commission.
Please come with a REFERENCE of what you want. i will not be accepting "get creative with it." this is not my avatar. if i wanted to do an avatar for myself, i definitely would. a clear reference with images and detailed descriptions are required. i will not try to guess what you want. 
NO REFUNDS. if you are unhappy with any wips i send you, LET ME KNOW. i can cut the base price slightly but i will NOT be giving it to you for free. i spent time on it, and i won't discredit myself.
*
TURN AROUND TIME: my avatars, if i have a clear image in mind of what i want, usually take around a month or so. i will not guarantee this turn around time for your avatar. any avatar would take MINIMUM one month, and MAXIMUM three months, depending on the workload and the amount of assets i have to custom make. 
CHANGES/REVISIONS: i will not take up to more than 2 design revisions. sometimes, you don't know what you want. that's fine. but consistently changing the design of your character wastes my time AND your time. changing the design after 2 revisions is a $30 extra charge for my time and resources.
---
 ALL AVATAR WORK HAS A $50 NONREFUNDABLE DEPOSIT, THIS RESERVES YOUR SPOT. NOT PAYING THE FINAL SUM PAYMENT MEANS YOU WILL NOT RECEIVE ANY FILES.
Base Prices:
 BLENDER STAGE
Basic Avatar, 1 Outfit, up to 5 accessories: $100
Additional Outfits: $50
Additional Accessories: $10
Custom Made Pieces ( i have to make clothing, accessories, or anything else on the avatar from scratch ): $30 on top of the base price.
UNITY STAGE
Basic Package ( 1-10 Regular Toggles, Basic Unity Avatar Setup, 3 Menus): $100
Advanced Package ( 1-15 Regular Toggles, Basic Unity Avatar Setup, Hue Shifts, Audio Link, TPS, 5 Menus ): $175
Premium Package ( Unlimited Toggles, Dissolve Toggles, Basic Unity Avatar Setup, Hue Shifts, Audio Link, TPS, Unlimited Menus, Special Requests ): $250
Commercial License ( vtuber, monetized youtube videos, anything that you will use the avatar for and possibly gain money from ): $100 on top of the base price.
any asset you want on the avatar that i do not own, you are responsible for paying for. any asset must be gifted to me so i can use it on YOUR avatar.
PAYMENT METHODS: i do not take paypal. not on my website, not as an invoice, paypal is out of the question. you can pay on my store or on my ko-fi. those are the two options. i require ALL payment up front or individual payments as each stage finishes. 
these prices may change based on item complexity. i will disclose this upon asset commission discussion. after the package is finished, the avatar is finalized. the only altering of the package i would do after payment is technical support.
I WILL NOT MAKE ANYTHING TRADEMARKED OR COPYRIGHTED. ALL AVATAR LICENSE PACKAGES ARE PERSONAL USE ONLY UNLESS YOU BUY THE COMMERCIAL ADD ON.
---
this is only for my commission payments. please inquire for more information in my discord. want to inquire about pics of my work or past commissions? join my discord, there's a lot in my wip channel and commission channel. 
---